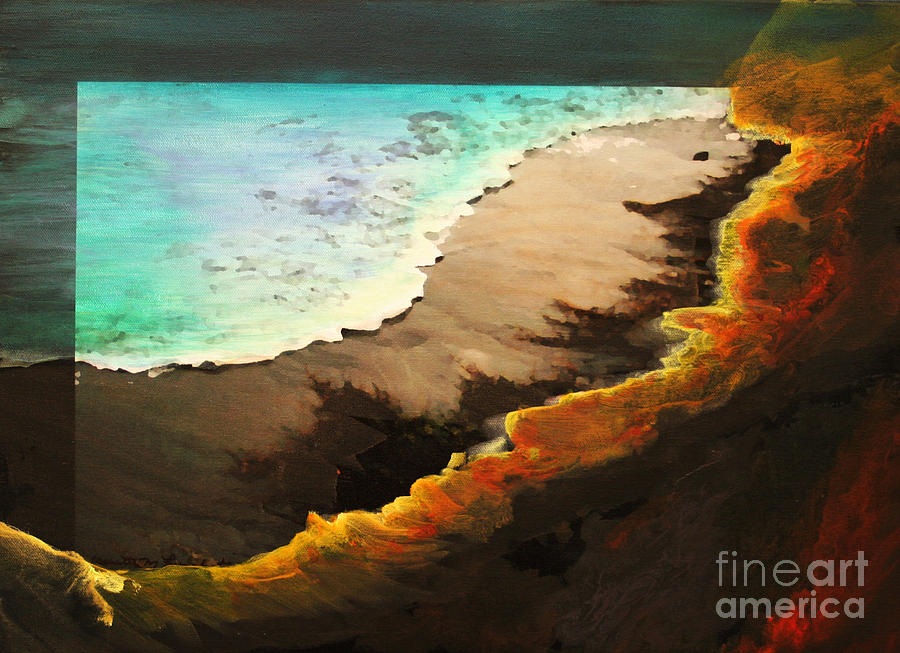 Fire and Water
by
Jeanette French
Dimensions
24.000 x 18.000 inches
This piece has been already sold. Please feel free to contact the artist directly regarding this or other pieces.
Click here to contact the artist.
Medium
Mixed Media - Mixed Media
Description

Fire and Water is a mixed media representation honoring the nature of the on-going act of creation of our home planet, Mother Earth.
Our planet's surface is made up of 17 major, rigid tectonic plates that float above a softer and hotter layer in what is known as the Earth's mantle. These plates are continually converging or diverging from each other. As the plates pull apart, magma can rise to the surface from as deep as 3000 km in the Earth. Volcanic activity often forms where the plates are stretched thinner. As plates come together, earthquakes are often the result.
The natural, cyclical, tidal rise and fall of sea levels is generated by the gravity pull of the Moon and the Earth alignment, the Earth's rotation, the pattern of the deep ocean tides, the shape of the coastlines and the depth of the near shore. Tidal variations include two almost equal high tides and two low tides per day, a semi-diurnal tide; one high and one low tide per day, a diurnal tide; or a mixed tide, in which there are two uneven tides in a day.
Surf is the wave action that is occurring in the area between the shoreline and the outer edge of the breaking waves. This is where the word "surfing" came from. Surf can also apply to the waves that are actually breaking in shallow water or on the beach.
The beach is the shoreline at the edge of a body of water. The landform of the beach is often composed of loose particles like sand, pebbles, shells and shell fragments, the result of the endless
Creating portals of light, love, joy, beauty, compassion, hope and gratitude is my lifelong passion and gift for the earth, hence the name of my art business, For the Earth. My mother painted in oils when I was young and encouraged my own drawing, painting and handcrafting in all forms. My father, the photographer, gave me my first camera at age 8. As a result of these loving influences, I am a lifelong student of both mediums. I am grateful to my wonderful Pacific NW painter teachers, Stan Capon and Edi Olson, for training my eye and technique. I hope you will enjoy this image as much as I enjoyed its creation. More gifts for the earth can be found at these websites: jeanette-french.artistwebsites.com and jeanette-french.pixels.com.


Uploaded
November 26th, 2012
Statistics
Viewed 805 Times - Last Visitor from Beverly Hills, CA on 01/25/2023 at 12:34 PM