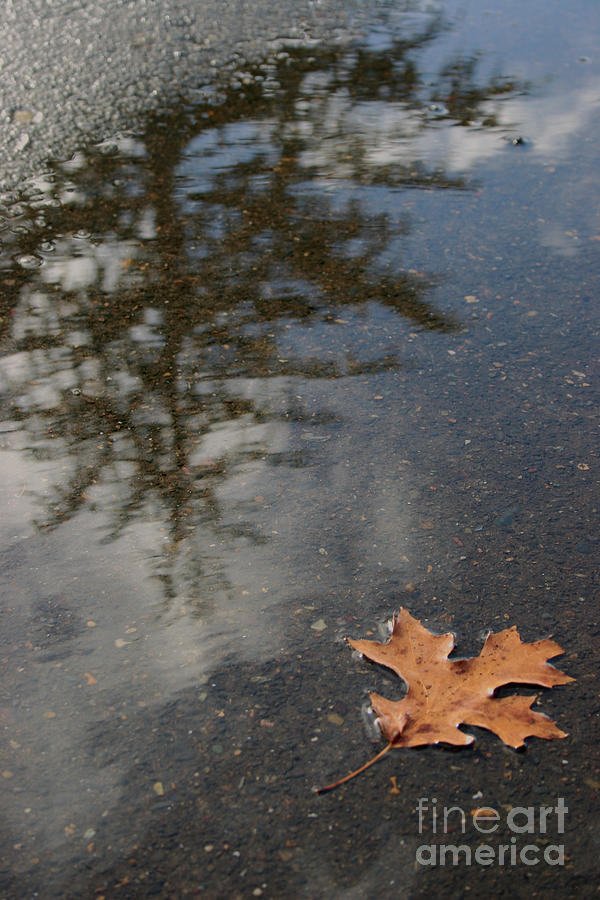 Medium
Photograph - Photography
Description
Stillness is image capturing that moment of change of the seasons, winter to spring.
In the Northern Hemisphere winter season, this area is tilted away from the sun. The reverse is true during the summer season. Spring is the season of change in between, signaled by the vernal equinox. The evergreen of winter is reflected in the rain puddle upon which one last brown leaf of the old season floats.
Reflections are optical effects that show a duplicated, but reversed virtual image on a shiny surface, like water or a mirror, as in this photograph.
The leaf in Stillness is from a red oak. Known as the king of trees, the majestic oak has one of the widest and most magnificent canopy spread. There are two types of oaks, one is red and the other is white. The difference can be seen most readily in the leaves. The veins in the red oak extend beyond the leaf edges, whereas the veins of the white oak stay within the leaf structure. The oak tree was sacred to Celt and Druid peoples. It is a tree considered to be aligned with the primal male energy, the yang energy of the universe. Because of this nature, it is aligned with all of the solar aspects of the universe. The great oak has strong ties to nature spirits as well.
The oaks acorns have long been considered symbols of fertility, fruition and manifestation of creativity. Oak trees provide strength, true gentle strength, to everyone.
Jeanette French, paintings, photographs, canvas prints framed prints, metallic prints, acrylic prints, greeting cards, gift cards, fine art.
Creating portals of light, love, joy, beauty, compassion, hope and gratitude is my lifelong passion and gift for the earth, hence the name of my art business, For the Earth. My mother painted in oils when I was young and encouraged my own drawing, painting and handcrafting in all forms. My father, the photographer, gave me my first camera at age 8. As a result of these loving influences, I am a lifelong student of both mediums. I am grateful to my wonderful Pacific NW painter teachers, Stan Capon and Edi Olson, for training my eye and technique. I hope you will enjoy this image as much as I enjoyed its creation. More gifts for the earth can be found at these websites: jeanette-french.artistwebsites.com and jeanette-french.pixels.com.

Uploaded
February 5th, 2013
Statistics
Viewed 353 Times - Last Visitor from Shenzhen, 30 - China on 12/06/2022 at 2:51 AM