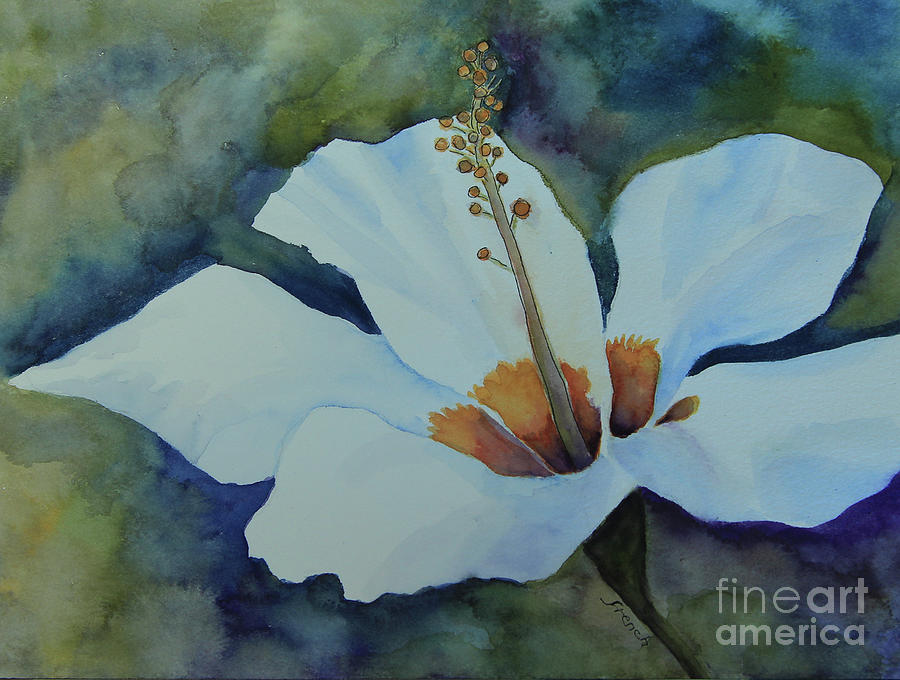 Buy the Original Painting
Dimensions
12.000 x 10.000 inches
This original painting is currently for sale. At the present time, originals are not offered for sale through the Jeanette French - Website secure checkout system. Please contact the artist directly to inquire about purchasing this original.
Click here to contact the artist.
Medium
Painting - Watercolor
Description
Watercolor Lily is a watercolor painting of an ethereal lily gazing upward.
Lily's heavenward gaze is in alignment with higher beings, including Quan Yin, Mother Mary, Venus, and angels. Lily is a long time symbol of this alignment with Divine energy, purity and protection and the increasing harmony that results. Her essence is simultaneously delicate and daring, a beautiful invitation to spend time with the energies of the Divine Feminine.
Lilies are a popular group of tall, perennial, flowering plants that grow from bulbs and all have large and often fragrant flowers in the late spring and early summer. Most of the species find their origins in the northern hemisphere. Their favorite habitats are woodlands and sometimes grasslands. The flowers are a trumpet shape and range in the warm spectrum of color: white, yellow, orange, pink, red and purple.
In the garden, there are many hybrids, some characterized by flowers that have markings or spots, like the Tiger Lily. The following groups are the most well-known. Asiatic hybrids have upward, outward flower faces and are usually without scent. Martagon hybrid flower heads nod their Turk's cap forms. Trumpet lilies, face out and slightly down and are especially fragrant, often also at night. Oriental hybrids, crossbred from more than one Japanese species, are known to florists as Stargazers, as their large fragrant flower heads turn heavenward.
Spring, a time of growth, renewal, rejuvenation and new life, is the climatic season that follows the typically three coldest months of the year, winter, and precedes summer, typically the three warmest months of the year. Meteorologists usually define three month season of spring as March, April and May in the northern hemisphere and September, October and November in the southern hemisphere. In either case, spring is the result of increasing warmth from the change in the orientation of the Earth's axis in relationship to the Sun. The astronomical March Equinox is frequently used as the marker for the first day of spring in the north. Erratic, unstable and severe weather patterns are most common in the spring due to the collision of warm and cool air masses. In the U.S., Tornado Alley is most active at this time of year.
Jeanette French, paintings, photographs, canvas prints framed prints, metallic prints, acrylic prints, greeting cards, gift cards, fine art.
Creating portals of light, love, joy, beauty, compassion, hope and gratitude is my lifelong passion and gift for the earth, hence the name of my art business, For the Earth. My mother painted in oils when I was young and encouraged my own drawing, painting and handcrafting in all forms. My father, the photographer, gave me my first camera at age 8. As a result of these loving influences, I am a lifelong student of both mediums. I am grateful to my wonderful Pacific NW painter teachers, Stan Capon and Edi Olson, for training my eye and technique. I hope you will enjoy this image as much as I enjoyed its creation. More gifts for the earth can be found at these websites: jeanette-french.artistwebsites.com and jeanette-french.pixels.com.

Uploaded
October 12th, 2021
Statistics
Viewed 215 Times - Last Visitor from Stevenage, F8 - United Kingdom on 12/03/2022 at 4:41 PM