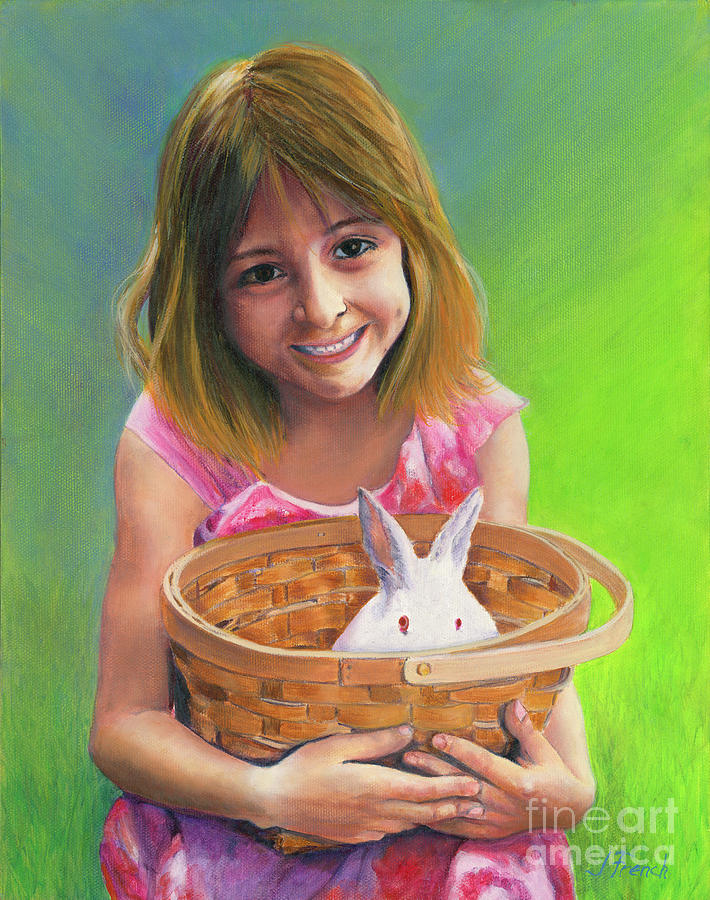 Medium
Painting - Oil On Canvas
Description
Girl with a Bunny is an original oil painting capturing of an innocent childhood time.
Early childhood is the developmental stage sometimes known as the play age. This stage usually includes the time frame between the ages of two years until around 7 years. This stage is characterized by rapid growth in all areas of development, including physical, language, hand eye coordination and cognition. The brain itself increases 20% in weight. Large muscles develop first, followed by the fine motor skills of small muscle development and coordination. Play activities that involve picking up objects, drawing, running, hopping, skipping, climbing, throwing, and catching help to develop these muscles. Children can learn much from caring for pets. Along with developing compassion and care for another living being, the relationship between children and their pets is usually a give and take of love.
Rabbits are curious and playful and can be kept as house pets. They are actually easy to train to use a litter box, similar to a cat, and they can respond to simple voice commands and come when called by name.
Jeanette French, paintings, photographs, canvas prints framed prints, metallic prints, acrylic prints, greeting cards, gift cards, fine art. jeanette-french.artistwebsites.com and jeanette-french.pixels.com.
Creating portals of light, love, joy, beauty, compassion, hope and gratitude is my lifelong passion and gift for the earth, hence the name of my art business, For the Earth. My mother painted in oils when I was young and encouraged my own drawing, painting and handcrafting in all forms. My father, the photographer, gave me my first camera at age 8. As a result of these loving influences, I am a lifelong student of both mediums. I am grateful to my wonderful Pacific NW painter teachers, Stan Capon and Edi Olson, for training my eye and technique. I hope you will enjoy this image as much as I enjoyed its creation. More gifts for the earth can be found at these websites: jeanette-french.artistwebsites.com and jeanette-french.pixels.com.


Statistics
Viewed 731 Times - Last Visitor from Suceava, 34 - Romania on 01/09/2023 at 8:39 AM